New York City Mayor Eric Adams and NYC Health± Hospitals (H+H) has announced the expansion of their groundbreaking lifestyle medicine services at six public health care sites across New York City.
The initiative, the most comprehensive expansion of lifestyle medicine programming in the U.S., Modeled off the popular and successful Plant-Based Lifestyle Medicine Program at NYC Health + Hospitals/Bellevue.
In a statement on Thursday February 17, 2022, it was that the new expansion is aimed at providing patients living with chronic disease the tools to make healthy lifestyle changes, included providing them access to plant-based diet resources.
The program will expand to serve qualifying NYC Health + Hospitals adult patients at Jacobi, Lincoln, Woodhull, Kings County, and Elmhurst hospitals, as well as Gotham Health, Vanderbilt. The program expansion will be implemented over the coming year.
"Today, New York City is again leading the way with the most comprehensive expansion of lifestyle medicine programming in the nation.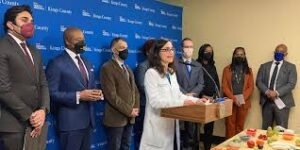 "This is personal to me — a plant-based lifestyle helped save my life, and I'm thrilled that New Yorkers in every zip code will have access to this critical programming. Together, we will stop feeding the health care crisis and ensure all New Yorkers can access the healthy lifestyle they deserve," said Mayor Adams.
"This expanded programming won't only touch the lives of the patients served, but will extend to the families and communities of every person served," said Deputy Mayor for Health and Human Services Anne Williams-Isom.
"That mom with type 2 diabetes or that dad with high cholesterol now has new tools to reclaim their health through everyday choices to eat, manage stress, and sleep better, as well as find enhanced social support. These programs can change individual lives by treating, preventing, and even reversing common chronic diseases, but will also ripple through to families and communities of those at risk of or living with a chronic disease. I want to thank Dr. McMacken, Dr. Katz, and all the staff doing this cutting-edge work and making a difference in the lives of so many New Yorkers."
"Even through the pandemic, heart disease remains the leading killer of New Yorkers, with diabetes not too far behind," said Senior Advisor for Public Health and Incoming Commissioner of Health Dr. Ashwin Vasan.
"To move the needle, we will need to invest in both upstream policy reforms and downstream care and supports. Increasing access to dietitians, health coaches, and physicians through innovative approaches, like the Lifestyle Medicine Program, will help more New Yorkers with cardio-metabolic diseases live longer, healthier lives.
"I applaud Mayor Adams and our colleagues at NYC Health + Hospitals for their leadership and for taking a holistic approach to supporting the health of our communities."
Also speaking about the initiative, Health Commissioner Dr. Dave A. Chokshi, said, "I have seen the benefits of lifestyle medicine for patients with chronic diseases in my own clinical practice."
He added, "As we continue to fight COVID-19, scaling these services will help build a healthier city for all New Yorkers. I applaud NYC Health + Hospitals for expanding this evidence-based program."
NYC Health + Hospitals President and CEO, Mitchell Katz, MD, stated, "As a physician, I know that medicine doesn't always come in the form of a pill. Eating a diet of fruits and vegetables can help prevent and treat chronic illnesses like heart disease – the leading cause of death among New Yorkers – cancer, and type 2 diabetes."
"Low-income New Yorkers are much more vulnerable to these diseases and we want to continue offering them an alternative way of eating that works on a limited budget and is accompanied by a network of medical and nutritional professionals. NYC Health + Hospitals is grateful to Mayor Adams for his continued support and innovation as we tackle the problem of chronic illnesses."
"The expansion of our lifestyle medicine services to New Yorkers throughout the five boroughs will be a powerful tool in addressing the burden of type 2 diabetes, hypertension, and other common chronic conditions, with benefits that could positively impact entire family units and those closest around them," said Michelle McMacken, MD, FACP, DipABLM, executive director, Nutrition and Lifestyle Medicine at NYC Health + Hospitals.
"We continue to be grateful to all of our advocates and partners who have made our existing lifestyle medicine services a success and this necessary expansion a reality."
In 2019, with the advocacy of then-Brooklyn Borough President Adams, the Bellevue Plant-Based Lifestyle Medicine Program — among the first of its kind in a safety-net health care setting — was launched.
The program takes an interdisciplinary approach to reduce patients' cardiometabolic risk, where a team of physicians, dietitians, and health coaches support patients in making evidence-based lifestyle changes, including adopting a healthy plant-based diet, increasing physical activity, improving sleep habits, reducing stress, avoiding risky substances, and providing social support.
The program has received national attention and there has been a high demand for services, including self-referrals from more than 850 New York City residents.